Coil-Link™
Real-Time Downhole Data Solution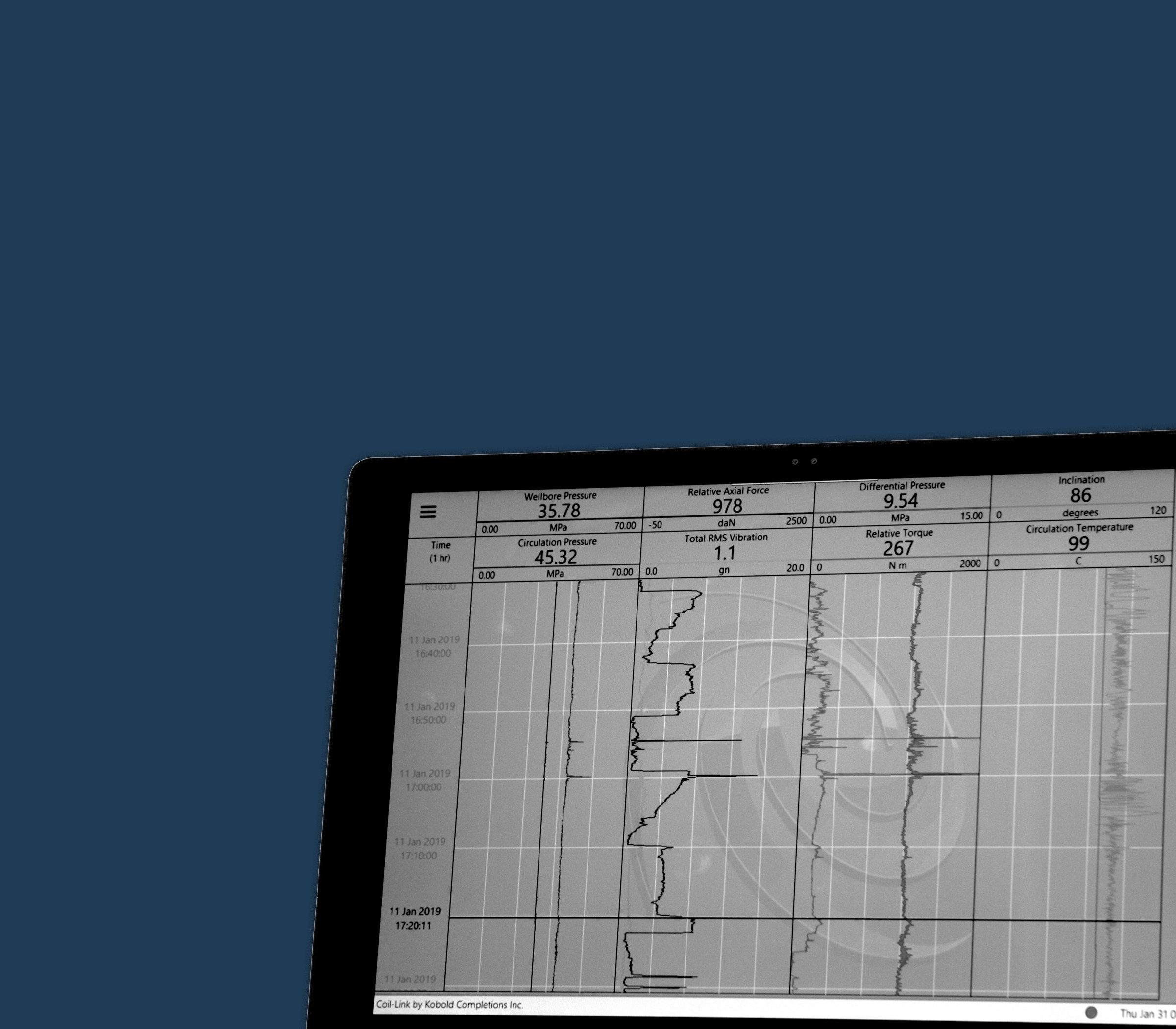 Kobold's real-time downhole data solution for coiled tubing applications.
As the global industry drills deeper wells and longer laterals, the associated complexities, costs and risks increase. In a longer lateral, the friction increases and the string weight on surface becomes an unreliable measurement of weight on the drill bit. In addition, surface pressure readings can no longer reliably predict the differential pressure across the bottomhole assembly when nitrogen is introduced into the drilling fluid. Coil-Link™ is a real-time downhole sensor package used to supply accurate information about downhole conditions during coiled tubing operations.
Kobold's Coil-Link™ communicates with the surface using a mono-conductor E-line so you know exactly what is happening at the drill bit. Operators have the ability to make decisions quickly and with certainty before a problem occurs.
The Coil-Link™ system is a self-contained package that integrates with existing procedures, operations and equipment. Everything required to go to work with a standard motorhead assembly is included.

Our compact package easily ships with any courier or as checked luggage. Upon arrival at site, the set-up is quick.
Coil-Link™ data is logged at the surface control unit in the coil cab. It can broadcast to multiple devices including tablets, laptops or smartphones onsite or remotely using a cloud-based viewer.

We take every measure to integrate the Coil-Link™ data and downhole measurements to other data systems.
Features & Benefits
Monoconductor wireline or TEC inside coiled tubing (E-Coil)

73 mm (2.87 in.) tool diameter can pass a 22 mm (0.87 in.) drop ball

Nitrified flow compatible, unlike mudpulse communication

Event detection with ten readings per second from all sensors

Real-time, logged and configurable output (WITS, WITSML, 4-20 mA)
Recording Specifications
Circulation and wellbore pressure

Weight on bit

Torque

Temperature

Vibration and inclination
Interested in Coil-Link™?
Get in touch.